Zoe Hodges has so far registered copyright of
13 songs
with Copyright House.
Zoe Hodges
Singer, Songwriter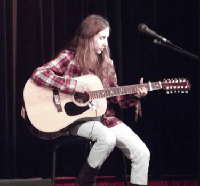 I first started singing when I was around three. My parents would forever be playing The Phantom Of The Opera in the car, along with The Houghton Weavers and Abba - I would sit in the back with my brother and sing along to every word. I started having music lessons when I was seven and since then I've played flute, violin, guitar and had singing lessons.
I started writing songs at an early age but only started fitting them together with my guitar a year ago. I started off writing country music but I've been trying in recent months to write in different styles like punk and indie. My biggest influence is country singer/songwriter Taylor Swift who first inspired me to take up the guitar and start writing. In more recent times canadian band Marianas Trench have influenced my writing.
Beautiful - Zoe Hodges
I'm currently working on a piece I'm writing with another musician through a project I go to and as well as that another individual piece that I'm trying to compose other instrument parts to using the computer. I'd like to take my music further. I'd like to record more and perform as much as possible in lots of different places. I've always dreamed of being a big star in Nashville Tennessee so maybe that'll be on the cards in the future :-)
Fairytale - Zoe Hodges