Sergio Snyder
Scriptwriter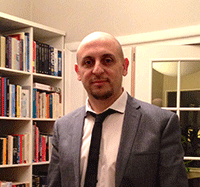 Sergio Snyder is a scriptwriter with a flair for comedy and romance. He was born on September 16th 1967 in Mexico City and began his artistic career at the age of 10 in his debute role of John in Peter Pan with a Mexican Children's theatre company. He worked in theatre and television until he moved to London to pursue his career as an actor. In 1987 he joined Group 64 in Putney, London where he acted and developed his skills as a Director and Writer.
He wrote and directed, 'Cats On The Roof" his first play, and later co-wrote and directed an adaptation of, 'The Diary Of A Mad Man' by Gogol. He has continued his passion for writing and has recently written several plays including a full length musical in Spanish, which he is currently looking to take to the stage in Spain and Mexico. He also recently featured in the "20 Minutes" event at the Soho theatre in London with his comedy, "Lodgers", a play exploring the relationships of a family who decide to get lodgers. For further information on his work go to www.sergiosnyder.com and keep navigating website!
Sergio is currently working on his second musical, using the songs from the well known group Chicago (not the musical!). It's a story based on passion for music and love. The first draft is done and he has commenced the art of refinement! He is looking to connect with any producers interested in this project.
He had one of his play's performed at the 20 Minutes Festival in Soho by Writer's Avenue Theatre company last summer. As he continues to write plays, musicals and film scripts he will be looking for that break to showcase his work.
2 scripts by Sergio
Coupled
by Sergio Snyder
One Weeks Hire
by Sergio Snyder