Princess Thomas has so far registered copyright of
90 songs
with Copyright House.
Princess Thomas
Singer, Songwriter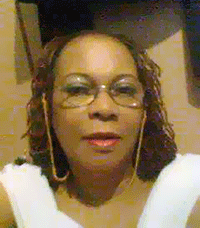 I started singing and songwriting in the year 1998. The Lord God has blessed me in the spirit of songs unto him. First I didn't understand what I could of done with it, so I shoved it under the table for a while. Then, after five years, it was brought to my attention again by the Holy Spirit. Now my understanding is open to its anointing, the songs are prophetic/worship songs. The songs are downloaded unto me, I sing them first in the spirit, then write them out in English. They all have their own unique identity.
My desire is to one day sing for the Lord all over the world, blessing the people, as God allows. I would like to meet people with the same agenda and hunger for the Lord. Each of my songs are given to me in the Spirit, through praying and singing in tongues first.
I always have my voice recorder at hand to tape them as I go along. And when i have time again, i would listen to them all over again, asking the Lord to give me the english meaning of those songs. I then get my pen and book while listening to the songs again, as inspiration of words start to flow in my heart and soul, I immediately write them down. With the original tune that I had, I sing them within the spirit. Then I sing them in the same way but in English. So this is how I have accumulated my 80 songs plus, and they are still being downloaded everyday, as I make time for the Lord.
I have finished my first demo of seven prophetic songs and am now working on my second one; this will be ready in May 2013. There will be twelve songs on this second CD. I am still working full time at my job, so time is limited in getting the CDs together.
My plans for the future are to sing to nations for the glory and honor of my God, and for the blessing of the people. In 2011 I started calling a few churches, letting them know of my ability, sometimes they would invite me to come and sing in their churches on a Sunday morning. And as i said, I am new to this, so I am looking for support and ideas. In 2012 I performed one of my song at Chronicles Studio's 6 year Anniversary celebration; it was very encouraging. I am trusting God for direction, because I know he has his plans for me.