Phil Maybury
Songwriter, Vocalist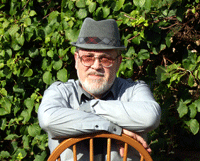 Phil Maybury is a very talented British songwriter. He describes his music as a fusion of poetry, harmony and melody, along with the deep emotion of a ballad or the captivating rhythm of a more upbeat number. His sound grew out of the creatively fertile flower-power era, springing from folk, folk-rock and later country and blues. Evocative lyrics have always been his primary aim, although he is now developing a tighter musical focus whilst expanding his musical interests and absorbing more musical influences to develop his style. He has never been completely comfortable with trad folk or country, but the singer-songwriter tradition, contemporary folk, folk-rock, country pop and a range of blues influences have all contributed to where he is now.
Phil Maybury Preview
(Tracks included are: Empty Echoing Man, Help Me Please, A Lifetime Ago, Wise Old Owl, Bully Boy Blues, Fiction Girl, Fly Through the Sky, Sorry That I Made You Cry.)
The Music Begins
Creativity was at the centre of Phil's existence from his early years. Music, drama and poetry were all integral to his childhood and words quickly became the focus of his career. After launching and editing a new school newspaper, he went on to become an advertising copywriter and later a journalist, before setting up his own businesses in PR and web design. As a teenager he quickly adopted the guitar and provided musical backing for a friend in a local music competition whilst, at the same time, starting to write his own material. When working as a fund-raiser for a national charity, he pulled together a number of musically-equipped friends and formed 2 groups. The first was a folk group named 'Heathfield' and later an acoustic group called 'Manuscript'. Heathfield were more of a trad folk band, whereas Manuscript played more rock and pop like the Moody Blues and Simon and Garfunkel.They played a series of gigs across West Yorkshire and became the launch-pad for Phil's own music. As a result of these gigs a complete program on a local radio station was dedicated to interviews with the band and its music. Following the radio program, Phil and another member of the band were commissioned to record songs for BBC children's radio programmes. He still has his BBC contract to prove it! - it's alright Phil we believe you.
His songwriting simmered quietly in the background for a number of years, due to the demands of his careers in advertising and journalism; then he stumbled across the UK Songwriting Contest. The first three songs Phil submitted, all reached the semi-finals and he was given a new impetus to write newer and more diverse material. He began listening to music with a more critical and interested ear. After honing his skills with training courses, in online communities, and by working with mentors, he began to set himself challenges. These challenges included the target of submitting a song to every category in every genre of the 2011 UK Songwriting Contest; he rose to those challenges. Every song he entered was either commended or reached the semi-finals.
The Music That Made The Music

So what music does someone listen to to become a songwriter of Phil's calibre? What music was thrown into the pot and left to simmer for many years until the songwriter casserole was good enough to eat?! Well, Phil has always been a sucker for romance and jazz, mainly due to his father being captivated by Nat King Cole. Although still very young when the Beatles exploded onto the music scene, Paul McCartney's ballads slowly marinaded in his mind along with: the community folk of The Spinners (Manchester not Detroit), the bluesy vocals of Dusty Springfield, the crooning style of Andy Williams and the distinct harmonies of the Carpenters. The songwriting and musical expression of Ralph McTell, Simon and Garfunkel, Carole King and Neil Diamond also expanded his horizons. But it was the chance 'Discovery' of an album of that very name by Chris de Burgh that opened his eyes and ears to folk-rock. His synthesis of the wandering chanteur, his stimulating lyrical content, and a rock beat immediately captivated Phil.
Perhaps because his ancestors haled from the Emerald Isle, the compositions of folk singer-songwriter Dougie McLean, the music of Riverdance, Enya's New Age and the Celtic rock and pop flavours of Runrig and The Corrs have all added Celtic colour to Phil's music. Other musical influences of note include the songwriting and commercialism of ABBA, the psychedelic rock of the Moody Blues, and the slick pop influences of the Bee Gees. The film 'Fame', the subsequent TV series 'Kids From Fame' and the later TV series Ally McBeal injected him with influences from blues, rock and soul. More recently, a range of folk/country pop crossover singer-songwriters have captivated him. These include Alison Krauss, Sarah McLachlan and Gretchen Peters, along with country bands and singers like Jewel, Sugarland and Lady Antebellum.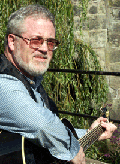 The Music Never Ends
Phil's musical output has been limited recently by some severe heart problems, although he says that this will not stop him from continuing to focus on his songwriting and hopefully return to public performances before too long. He is aiming to add to his already established collection of 15 semi-finalists and 25 commended songs, as he sets his sights on the approaching 2012 UK Songwriting Contest. A relative of Phils', who sadly has lung cancer, recently wrote a poem about her experiences and has asked him to transform it into a song track which might perhaps be released for charity. He also plans to launch a custom songwriting service for special occasions,develop his studio, explore the capabilities of digital recording, and expand his instrumental and vocal skills. Not much then Phil!
You can find out more about Phil at: