Martina Anne
Author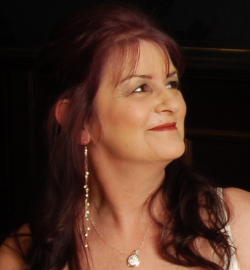 Martina is a dark comic author from Bolton. Her first book, entitled 'YOUR FATHERS DAUGHTER-The Early Years', is about her own childhood. As with most children she considered her upbringing to be a normal one. She learnt, as she reached her mid teens, that it was far from normal. Once she had realised this and challenged those with authority over her, the struggle to survive and escape alive began.
---
Martina has been an avid reader and writer her whole life. As a child she read many books both fact and fiction, she even read a child's encyclopaedia from cover to cover! In school she always loved essay writing, but her mind worked so fast that her pen couldn't keep up! Martina told me that she, 'always lost marks for missing the first letter off most of my sentences'. She has also kept a diary throughout most of her life.
---
Martina has published her first book very recently, 'Your Father's Daughter' (available on Amazon/Kindle), and admits that it took her three tries to find her own style. That doesn't sound bad to me Martina, some authors take years to find their style! Her first draft of Your Father's Daughter read like a list and the second became a boring monologue. From the mistakes she'd made in these first two drafts Martina worked out what she wanted to achieve and the final edition went into print.
---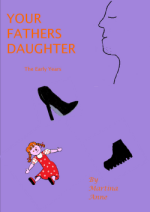 Martina tackles serious issues and adds a smattering of laughter and even a few belly laughs. She finds that the worst issues are remembered better if there is a laugh in there somewhere.
---
Reviews for 'Your Fathers Daughter'
"This book was written by a dear friend of mine, and I was honoured to be one of her proof readers. It is one of those books you can't put down, and when I got to the end I was annoyed there was no more. I'm nagging her to continue her story, read it for yourselves and see why!" Pat Lawrence - Hampshire UK
"Hey,dont know if you saw it but I got your book on Monday. I have just finished with it - what a great read. You did a very nice job and it flowed wonderfully. I thought, due to the subject matter, it would be emotionally difficult to read. However you wrote it in such a way that what you went through was hard to deal with but endurable to the reader with some lighthearted moments. It left me wanting soooo much to know the rest of the story! What a wonderful woman you turned into despite what life threw at you. I applaud you. With all my love." Jennifer Thornton - Avery NC USA
"Yes your book was truly a good read on such a difficult subject x" Bette Caven - Nairn Scotland
Martina says she has been inspired by female comics such as Jo Brand and Victoria Wood. She drew inspiration for 'Your Father's Daughter' from Dawn French's, 'Dear Fatty', however Martina's book is far more serious.
---
Martina already has an idea for a follow up book as well as several other ideas waiting to be put onto paper.