J.T. Ellis
writer
J.T. Is a crime/thriller writer from Derbyshire. He was inspired to start writing by things that he saw on a regular basis. He works in criminal law and one day started thinking that he could write some great stories based on characters and situations from actual cases, whilst keeping anonymity intact of course. Add a touch of poetic licence to each case, assaults become murders, constables become case hardened detectives, victims are avenged more graphically than just by the use of the justice system and hey presto! you have a gripping thriller; the type that J.T says is, 'what people want to see in a modern socially deteriorating society'. He decided to write a few short paragraphs from his vast array of ideas whilst waiting on a case. His friend read it and was immediately intrigued. That was when J.T. got to thinking that, 'if I could make a little money, I could stop what I was doing and write for a living'.
I asked J.T. some cunning and deeply probing questions to find out more about him and his work: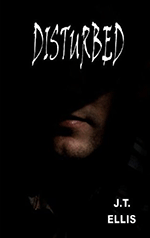 Tell me about your writing style.
'I like to write in the first person, although my first novel, Disturbed, makes use of a narrative style that develops as the character twists through the novel. It gives the reader a little more to think about. I like to shock and surprise with my stories, whilst at the same time offering clues disguised as mistakes, cryptic, I know, but it's fun.'
Has anybody in-particular inspired you or influenced your writing?
'I know it sounds a bit weird, given the genre differences, but I was always inspired by JK Rowling. She started out with nothing and now has the fame and the fortune. I don't expect to gain anything like the celebrity status of Ms Rowling, which is why I don't like to give my name openly to my work. I prefer discretion. I want people to read and enjoy what I have to offer. My influence is what I see everyday and my inspiration comes from nothing more than a few good reviews.'
What are you currently working on?
'I have nine ongoing ideas. This is probably enough to get started. Each idea born out of an event, a dream or sometimes just the passing by of an old building. The most developed at the moment, Curtain Twitcher, is yet another dark tale of an average family man destroyed by a sequence of devastating events, leading him to plot revenge and murder. The book is written in diary form, timed over five separate, non consecutive days. I thought five days was enough. The first day starting with a plan, the next two days covering the major events of present and past with the penultimate day being the climax of the story, ending with the revealing last day. It's a few months in progress, due for publishing around October time. Keep your eyes open!'
What are your plans for the future?
'Everyone usually says they plan to retire to the country when they stop working. I already live in the country so most of my dream is realised. I hope to continue writing until the ideas dry up. In the meantime, I have to keep working to pay my way and keep up the mortgage payments, just like everyone else.'
J.T.'s first published book, 'Disturbed', is available as an eBook on Amazon Kindle. He plans to build on that portfolio with his upcoming second novel (for which he'll be providing his own cover designs). J.T would like to say, 'If you like it, review it. If not, please be patient and give me a chance. I will try not to disappoint...'