Janice Scott
Author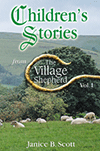 From an early age Janice's favourite activities were reading, reading and occasionally a little bit of reading! She devoured all the books she could find. During her youth she read all the classics, and developed a particular love of the works of Dickens and George Eliot. She was also drawn to crime and mystery writings, insatiably reading all of Agatha Christie's novels and all Conan Doyle's Sherlock Holmes books. Her love of this genre stayed with her and she has continued to read, and be influenced by, many modern crime writers.
It was a natural progression for Janice from reading to writing. She started writing short stories and her talent soon became obvious when she won a radio short story competition. This success was quickly followed by having one of her stories accepted into a prestigious anthology.

It was, rather surprisingly, through Janice's work with the church that her writing skills started to progress. When she started training as an Anglican priest she had to write masses of essays; while to some this would have been a huge chore, Janice found that she really enjoyed it.
Once she was ordained, she found herself writing sermons every week. She developed a website based on her sermons and soon began to add short stories for adults and children based on the Bible reading set for the week. Her website was taken over by an American publisher (CSS Publishers) who have now published two volumes of her short stories, with a third volume in the pipeline.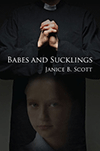 She's a firm believer in clear writing - even for academic subjects. In her novels and short stories, she aims to write in a manner that people can easily read and easily remember the characters and the plot. She thinks every reader should be able to understand what they are reading no matter how complicated the subject; her style, therefore, may be described as wieldy, garrulous and cordial - although Janice would describe it as easy, chatty and friendly.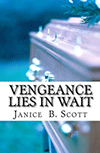 Her first published novel was a crime mystery entitled, 'Heaven Spent' and it featured a character named Polly Hewitt. Polly is the priest in four small Norfolk parishes where village life brings some surprises. Janice, developing a love of this character, went on to write two more novels in the Polly Hewitt series, 'Babes And Sucklings' and 'Vengeance Lies In Wait', and she – at the time of writing this – is currently working on a fourth. She doesn't yet have a title for this latest work, but it is another murder mystery set in the background of the delights, problems and squabbles of village life.
Janice says that she will continue to write about Polly Hewitt's exploits for as long as she remains a person of interest to her! But she may also branch out and try a novel with a different main character. She may even try writing a romance - as long as it has a theme of mystery and intrigue.