Ilya Golitsyn
Musician, Composer, DJ
Ilya was born in Moscow and his natural talent for music shone through from a very early age. He started writing his own music when he was only 8 years old and hasn't stopped since. By the time he attended music school he was an accomplished pianist, composer and singer; he decided to focus his studies on vocal performances. After graduating from music school he went on to work as manager of show business at St Petersburg University of Culture and Arts.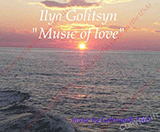 It wasn't long before his abundant creativity needed more of an outlet, and in 2008 he started his own record label, 'Golitsyn', based in Leeds, UK. He used his new label to produce his own style of dark ambient and chill out music. He has released 30 singles and 2 cds, 'Music of Love' and 'Swiss Dreamy Songs', in this genre to date.
Ilya says that he has been inspired by, "the sounds of nature, the sound of the sea, distant and deep space...", these natural inspirations can truly be heard in his ambient music. He does, however, also have a love of modern rhythms and it was this passion that brought about a new direction for Ilya. He started to combine his smooth melodies with hard rhythms, and in mid 2012 he released 5 tracks in his new progressive trance style: 'Back To The Leiden', 'A Few Happy Days In London', 'Galaxy`s Heart', 'Voices Of Zeta Orionis' and 'Cheryl' (dedicated to his favourite singer, Cheryl Cole). With a seemingly unlimited flow of fresh, new melodies and rhythms, Ilya plans to release 2 or 3 new tracks every month!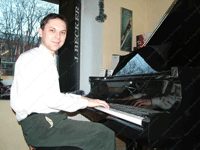 Leaf Fall
by Ilya Golitsyn
The Golitsyn record label is keen to collaborate with DJ's and musicians world wide to create remixes and new progressive trance tracks. If that's something you would be interested in then web search 'Golitsyn music label' and contact him via the label's email.
Ilya's talent belies his modesty, he puts his success to date down to hard work, faith and inspiration, and help from others. For this he would like to heartily thank, "Mom, Dom Kerley, Connor Devine, Cheryl Cole, Jason Butler-Boffey, Paul Volniansky, Alexandra Merkulova and all of the British musicians and people who have helped me. God bless them and the United Kingdom!".