Gift Da Komzzy has registered
his copyright
with Copyright House.
Chris Dunne
Singer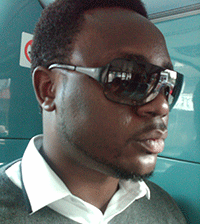 I started my music career in the church choir way back in 1996 as a young naive chorister. Back then I was very shy but very determined to grow as a musician; this determination paid off when I eventually became choir leader. I started writing my own songs during this period and now I also play bass guitar and produce my songs. It took me years and years of learning and listening to others to develop myself, not just in the art of singing, but also song writing and music production. I identified who my role models were - the likes of John legend, Joe, Usher, Will I am, 2face Idibia and Banky Wand - and started to work towards how they started and became who they are today. Reading a lot about them and watching how they progress from one stage of their career to another gave me an inside look into how to develop and improve myself.
With constant practising and encouragement, I can boldly say that I am an enigma in my field. My style is simply a mixed genre of European and African touch i.e. funky house afrobeat and a blend of rhythm and blues with some touches of hip hop. I have made a few recordings so far, including:
Make u dance
Mu ijo(thanksgiving dance)
Show u round(London/lagos
)
Oti lo
Thank u Mr dj
We dey gbonno
At the time of writing this I am working on my debut album and in the future I want to be the best in my genre and help others to discover and develop their talents.
Make You Dance