David Everitt
Writer, Poet, Songwriter
I'm here to tell you about a man,
Full of words, and most are rhyming,
He'll fill your heart like no other can,
He'll make you feel like.....criming?...priming?...thiamin? Oh I give up! I think I'll leave it to the experts such as David Everitt.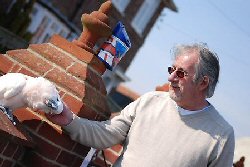 David is a writer from Leicestershire, England. His work spans many genres, such as poems, children's stories, memoirs/commemorative books and songs. His poetry is inspired from the sadness that we all get in life, the happiness, people's emotions, political embarrassments and most of all, world news. There is a happiness and positivity that permeates much of David's writing, but it is most prolific in his poetry about everyday people and events. He can find humour in almost anything, from holidays to window cleaners to getting a carpet fitted.
David writes about many subjects close to his heart, such as his deceased wife and his head injuries. It was, in fact, his wife suddenly passing away in 1999 that first inspired him to start writing. He felt he needed to celebrate her life/existence and so he wrote a commemorative book for her. This gave him the idea to offer a commemorative book writing service for people he knew that had lost loved ones. He has completed 6 books with great satisfaction from their owners. David has said that he wants to expand on this idea and offer a bespoke poetry service to the public for special occasions. At the time his wife passed away, David was also recovering from a head injury, similar to a stroke, which stopped him doing his normal routine and affected his attention span. With an inspiring resilience, he converted both of these negative events into positive creativity. His poems on these two subject matters are written with a moving intensity that is clear and simply stated yet they easily convey the depth and complexity of human emotions.
I think my favourite poems are his politically based ones. He touches on often controversial and inflammatory topics such as the health service, employment, law, and politician's wages. They are often ironic, sometimes aggressive but always cut to the truth of the matter.
As well as a poet, David is also a talented songwriter and musician. Music is something David feels very passionate about, perhaps a little too passionate some might say! You'll know what I mean if you read, 'Just A Beautiful Body' – a poem about a violin that makes him scream in ecstasy – or 'Guitar Love' – where he has a great night with a guitar that makes him scream and gasp for air! Anyway....I think we'll move on shall we?

David's recent success's include being asked to write a poem for the Queen's Diamond Jubilee and then reading it to the public at a "Party in the Park" Jubilee Celebration in Anstey, Leicestershire. A copy of the Queen's Poem has been sent to Buckingham Palace. He entered a competition with United Press of London called, "Orchestral Ensemble". Although he didn't win the competition he was chosen to go into a book called "Uplifting Moments" that was published in 2011. David was also one of 53 poets picked out of 60,000 who were asked to put a poem into a book called "Poets Diary" to be published by United Press in 2013.
David is soon hoping to complete a biography of, "The Martins", a Leicester based rock band from the 1960's who, after changing their name to "The Mint", went on to win the TV talent programs,"Opportunity Knocks" and "New Faces". He also hopes to write his own autobiography.
You can find out more about David and read some of his writings and poetry at Redbubble.