Chris Thomas has registered copyright of
24 songs
with Copyright House so far.
Chris Thomas
Composer, Musician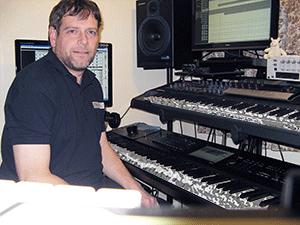 I bought my first guitar way back in time, just a few weeks before taking my 'O' levels. I think it was just after the dinosaurs went extinct. There was the intention of forming a band with school friends, but not everyone was fullcommitted to the cause and everyone eventually went off to university and on to their separate paths in life. Left behind in Wales, and after dropping out of college, I was drifting around and participating in cycle racing. Great fun, but no real future. Fortunately I came to my senses and went back to college and university, got a job, and then found I could actually fund my passion for music!
After finding a settled career and finally having some spare cash, I then fell in love with keyboards and synthesizers and started building a home project studio. I now have a house full of too many instruments but I am now able to enjoy making electronic/ambient/soundtrack music. I am self taught on the guitar and keyboards but am embarking on some piano lessons shortly. It might be a bit late in the day and I may have too many bad habits for the tutor to eradicate, but it should be fun. I have also gained a certificate in Music Technology and Recording. My music at present is in the realms of electronic, ambient and soundtrack music. But I don't feel restricted to these and would like to try my hand at some rock and folk in the future.
Nanda Devi Pt2 - Here With You
- Chris Thomas
From a mini album of five tracks forming a soundtrack for an imaginary expedition to the mountain and surrounding area.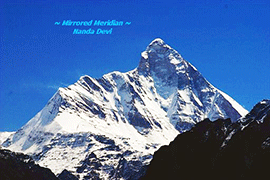 The first real influence came when I heard several albums which my brothers friend had in the late 1970's. These were Dark Side Of The Moon (Pink Floyd), Sabbath Bloody Sabbath (Black Sabbath) and In Search Of Space (Hawkwind). I was blown away! Out went Punk and John Peel and in came Progressive Rock et al. I then embarked upon a quest to discover as much of this music as possible and soon had a decent record collection containing those artists mentioned above and the likes of Van Der Graaf Generator, King Crimson, Genesis, Yes, Vangelis, Tangerine Dream, Renaissance, Mike Oldfield, Camel and so on. I've never felt as though one should dismiss certain styles of music just because it's considered to be from another genre. It's just a simple case of either you like something or not. While Prog holds a special place in my heart, I've also explored other avenues over the years and I'm quite at home listening to shoegaze, folk, metal, ambient, dance, new age, psychedelia and some classical. Landscapes, science and astronomy also provide some of the main inspiration behind many of my tracks.
I'm just completing my fourth album/set of music. It's an imaginary film soundtrack for a science-fantasy story called Heliolatry which is set on a mythical planet where the heroine escapes being sacrificed to the sun god, embarks upon a quest to find the supposedly mythical Temple Of True Light, and discovers the meaning of existence. Totally daft, but fun. The music is a mix of ambient, electronic and soundscape.
The Time Mirror
- Chris Thomas
The opening track from the Heliolatry album
I have plans for an over indulgent drone/ambient album project and also hope to produce something which is a mix of progressive rock, electronic and ambient. My pipe dream is to escape the drudgery of IT and earn a crust from music. But I still have one foot in reality! I would dearly love my music to be used for TV/film etc. It would be nice to get a bit of beer money back for my efforts. :)
The Sleep Of Many Dreams
- Chris Thomas
Pt9 of a 12 part Heliolatry title track which is approx 50mins long. Can't beat excess! :)
All my recordings are registered at Copyright House and are uploaded to Soundcloud. I work under the moniker of Mirrored Meridian and have a website under construction.
Album cover images are courtesy of Anirban c8 | Dreamstime dot com (Nanda Devi) and Ryan Pike | Dreamstime dot com (Heliolatry)