Ben has registered copyright of all his songs with Copyright House.
Ben Robey – Singer, songwriter
Question: How can a musician write all his own material and yet collaborate with 6 other people?
Answer: Be Ben Robey!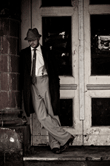 What am I talking about I hear you cry! Well, Plymouth's answer to Bruce Springsteen is a hugely creative multi-instrumentalist who plays plays the guitar, piano, banjo, harmonica, drums and bass guitar. He is also a formidable singer/songwriter that suffers from schizophrenia. As a result of this he hears 6 different voices in his head, all of which help with the writing of his songs!
Ben started playing the guitar at the tender age of 5 but didn't take up music seriously as his whole life was focussed on becoming a marine. His ambition was achieved but unfortunately, due to a motor accident damaging his temporal lobes and resulting in schizophrenia, he was discharged at the age of 24. It was then that he started focussing on his music.
Ben is a big fan of Lynard Skynard, Ray LaMontagne and Bruce Springsteen. All these influences can be heard in his music, however as with all great musicians, these influences are wrapped up in a style that is all his own. Ben has played at venues such as St George's Hall in Bristol and in festivals such as Run To The Sun. He has been featured on Radio Devon and will soon be supporting Land Of The Giants for some gigs in their upcoming tour. If you are lucky to see him perform you will never quite know what to expect. He likes to perform with various line ups, sometimes he'll play with a full band, other times with just a solo guitar. He enjoys mixing it up and surprising his audience. You can see Ben performing live by clicking on the link to his website at the bottom of this page.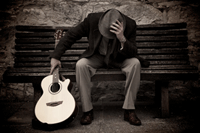 Ben has a 4 track EP planned to be released at the at end of 2012 entitled, 'Bear Of A Man'. Here is a track from the EP for to listen to.
One Day I'm Gonna Be More